Events
6 July
ELBPHILHARMONIE HAMBURG GROSSER SAAL
FRI, 6 JUL 2018   20:00
Schleswig-Holstein Musik Festival
Sold Out
MIAGI on-going Reporting from our tour of Europe:
Unfathomable success for MIAGI Orchestra and our coductor composer Duncan Ward last Friday, 6th July at the Elbphilharmonie, lovingly called Elphi, within the Schleswig-Holstein Musik Festival – check out our FB page for regular updates around the tour https://www.facebook.com/MIAGI.SouthAfrica/ if you do not believe us J and make sure not to miss the opportunity to experience our next major appearance  in Brussels at BOZAR, Henry le Boeuf Hall, Thursday 12th July @ 20h00  – find more information about our BOZAR event here https://www.miagi.eu/index.php/en/
11 July - European Parliament, Yehudi Menuhin Hall, Brussels Belgium - closed event
MI 18. JULI 2018 | 20.00 Uhr
MIAGI FEIERT MANDELA
MIAGI Youth Orchestra | Duncan Ward
LUDWIG VAN BEETHOVEN Egmont‑Ouvertüre op. 84
IGOR STRAWINSKY Feuervogel‑Suite (1945)
LEONARD BERNSTEIN Prelude, Fuge & Riffs
DUNCAN WARD Rainbow Beats. A Suite for 100 Years Nelson Mandela
MIAGI Youth Orchestra
Duncan Ward Musikalische Leitung
Theatersaal, Forum am Schlosspark Ludwigsburg
Karten zu 39 | 34 | 27 | 17 €
Schülerkarten zu 10 € 
[Einführung um 19.15 Uhr]
Unter der Schirmherrschaft von Ministerpräsident Winfried Kretschmann
20 July
MIAGI Youth Orchestra, South Africa

Congress Center Villach Fri 20.7.2018 / 20:00
MIAGI Youth Orchestra, South Africa
Duncan Ward, Dirigent
Ludwig van Beethoven: Overture from "Egmont" op. 84
Igor Strawinsky: The Firebird
Leonard Bernstein: Prélude, Fugue & Riffs
Duncan Ward: Rainbow Beats – Suite for 100 Years Nelson Mandela
Classical music, indigenous South African sounds and jazz are a powerful combination found in MIAGI, the fantastic youth orchestra from South Africa. The sheer joy the young artists display as they make music is contagious: They are convinced that music is the key to making societies better and fostering understanding across borders. Behind MIAGI Youth Orchestra there is the organisation MIAGI – Music is A Great Investment, which was founded by singer Robert Brooks and pianist Ingrid Hedlund in 2001. Ever since, MIAGI has given children and adolescents from all social strata and ethnic backgrounds access to music and musical education. Apart from running a music school in Soweto, MIAGI brings up-and-coming young artists together with established artists such as the MIAGI patrons Maxim Vengerov, Sergei Nakariakov or Duncan Ward. Duncan Ward was the first conductor admitted to the Karajan academy of the Berlin Philharmonic Orchestra; after conducting concerts of the Bayerische Rundfunkorchester and the Orchestre de Paris, he recently saw his début at the Festival d'Aix-en-Provence.
22 July
23 July to 28 July
1 August
AMSTERDAM
MIAGI YOUTH ORCHESTRA CELEBRATING NELSON MANDELA CENTENARY: BEETHOVEN, STRAVINSKY, BERNSTEIN AND WARD
Wed 1 Aug 2018 from 8:00 PM till 10:20 PM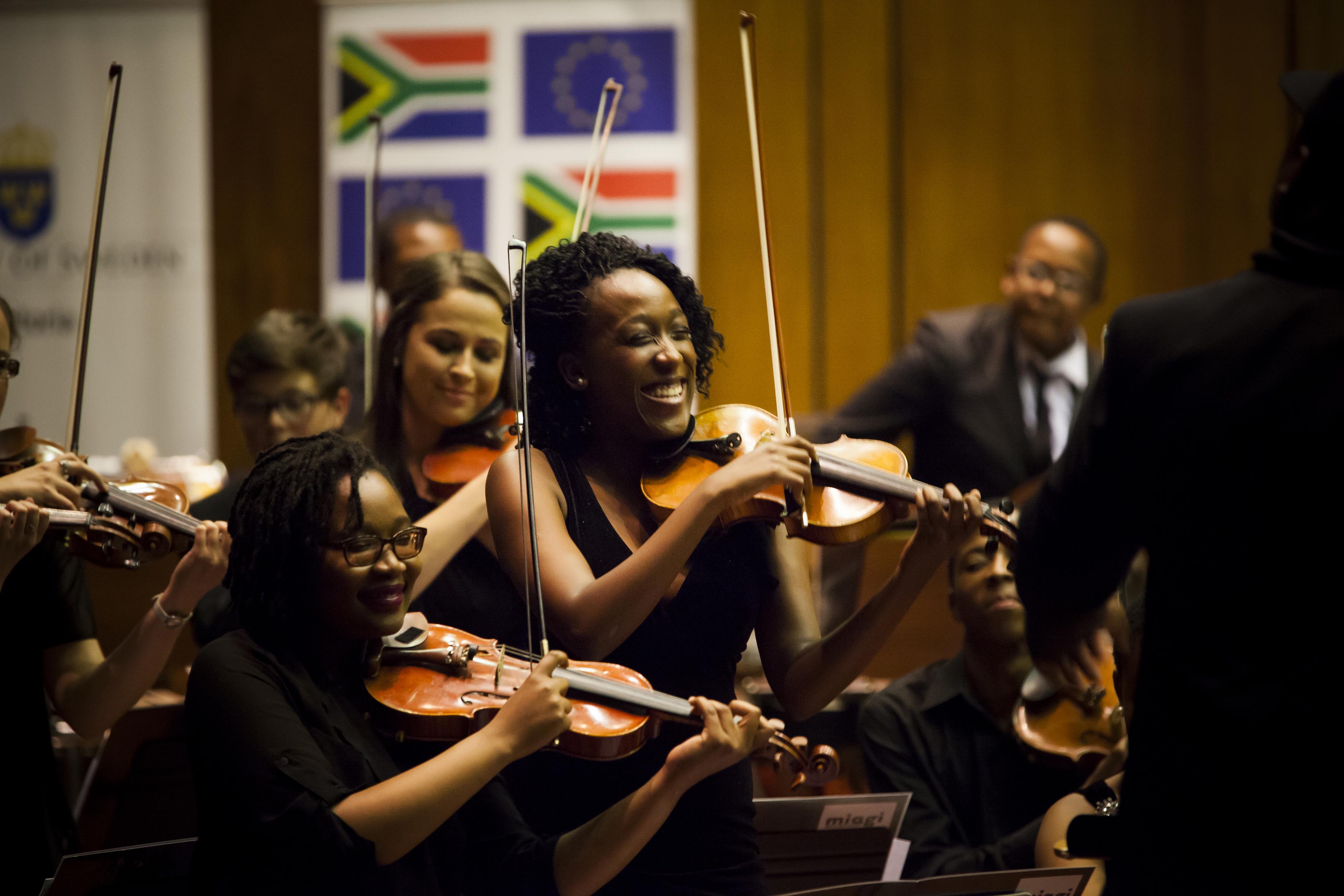 MIAGI Youth Orchestra © Frank de Villiers / MIAGI
2 August - concert for the Government of the Federal Republic of Germany, Berlin
3 August
KONZERTHAUS BERLIN
MIAGI Youth Orchestra
South Africa
August 3, 2018 8 pm
Konzerthaus, Berlin
Duncan Ward Conductor
Visser Liebenberg Clarinet
LUDWIG VAN BEETHOVEN
"Egmont" Overture in F-Minor Op. 84 (1810)
IGOR STRAVINSKY
"The Firebird" Suite for Orchestra (1919)
LEONARD BERNSTEIN
"Prelude, Fugue and Riffs" (1949/52)
DUNCAN WARD
"Rainbow Beats" Suite for 100 Years Nelson Mandela (2018)
7 pm: Pre-Concert Talk with Dieter Rexroth at the Werner-Otto-Saal
Free admission for ticket holders at 6:45 pm
PROGRAMME
Once a MIAGI fan, you are likely to stay a MIAGI fan forever! Anyone witnessing the sound of this ensemble at its earlier performances in Berlin knows what awaits the audience at this year's festival opening on August 3: electrifying verve and boundless enthusiasm from the first to the last note! The programme alone is enough to arouse curiosity: because two great charismatic men, Nelson Mandela and Leonard Bernstein, would have turned 100 years old this year, the MIAGI Youth Orchestra celebrates them extensively. Mandela dreamed of a society in which every person could have their place, regardless of background, race and colour – and that is what the new work Rainbow Beats reflects. The English conductor Duncan Ward has written it especially for this occasion, and the former assistant to Simon Rattle also conducts the orchestra. There is no question that he and his musicians, only slightly younger than their conductor – will put the audience at the Konzerthaus Berlin into the quintessential festival mood by performing Bernstein's Prelude, Fugue and Riffs and Stravinsky's Firebird Suite!
More events will follow!
Past Events
MIAGI had the privilege and joy to spend a hugely informative and inspirational day, hosted by the Swedish Royal Family at The Royal Palace in Stockholm, Sweden, where the 10

th

 Global Child Forum 2018 was held.
Global Child Forum was founded by the Swedish Royal family and over 300 participants from around the world gathered to discuss child rights issues. Participants represented global companies, financial institutions, civil society, the UN, academia and government. 
Wednesday March 28, 2018 @ 16h00
Cape Gate MIAGI Centre for Music, 5635 Mtembu Street
(behind the Morris Isaacson High School in Soweto)
The Public Arco Festival Concert at CMCM with Performances by Arco Students and Teachers
Our March Arco Festival took place from 24 to 29 March 2018 - follow this link to find out more about our Arco programme in collaboration with the Royal Birmingham Conservatoir in the UK.

Thursday March 1, 2018 
Renowned choir and choral conductor from Stockholm
visited our music centre!
Interactive workshop / concert with conductor Bengt Ollen and members of the youthful choir from Stockholms Musikgymnasium (a school specializing in offering the students high quality music education, in addition to general school subjects)...and... with the Morris Isaacson High School Choir also joining in, to perform for our very special guests and sing Shosholoza together with them - Thank you to all performers and participants and a very special thank you to everybody who helped with the arrangements!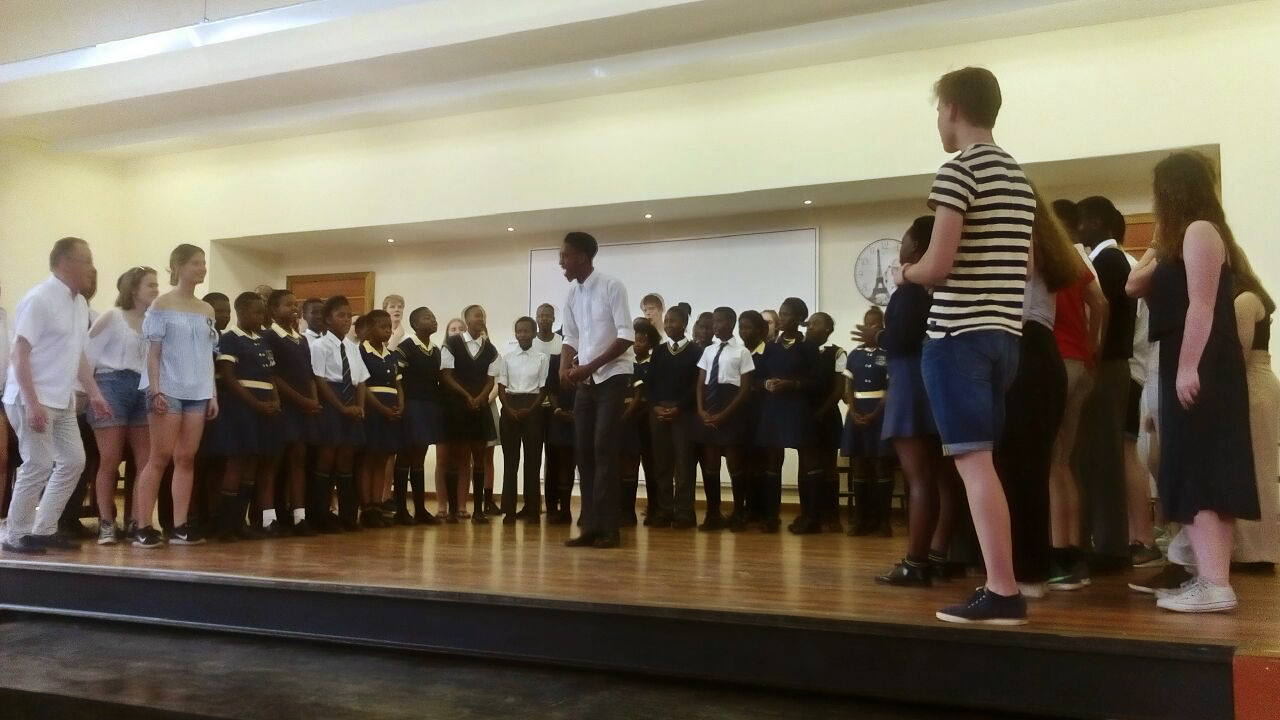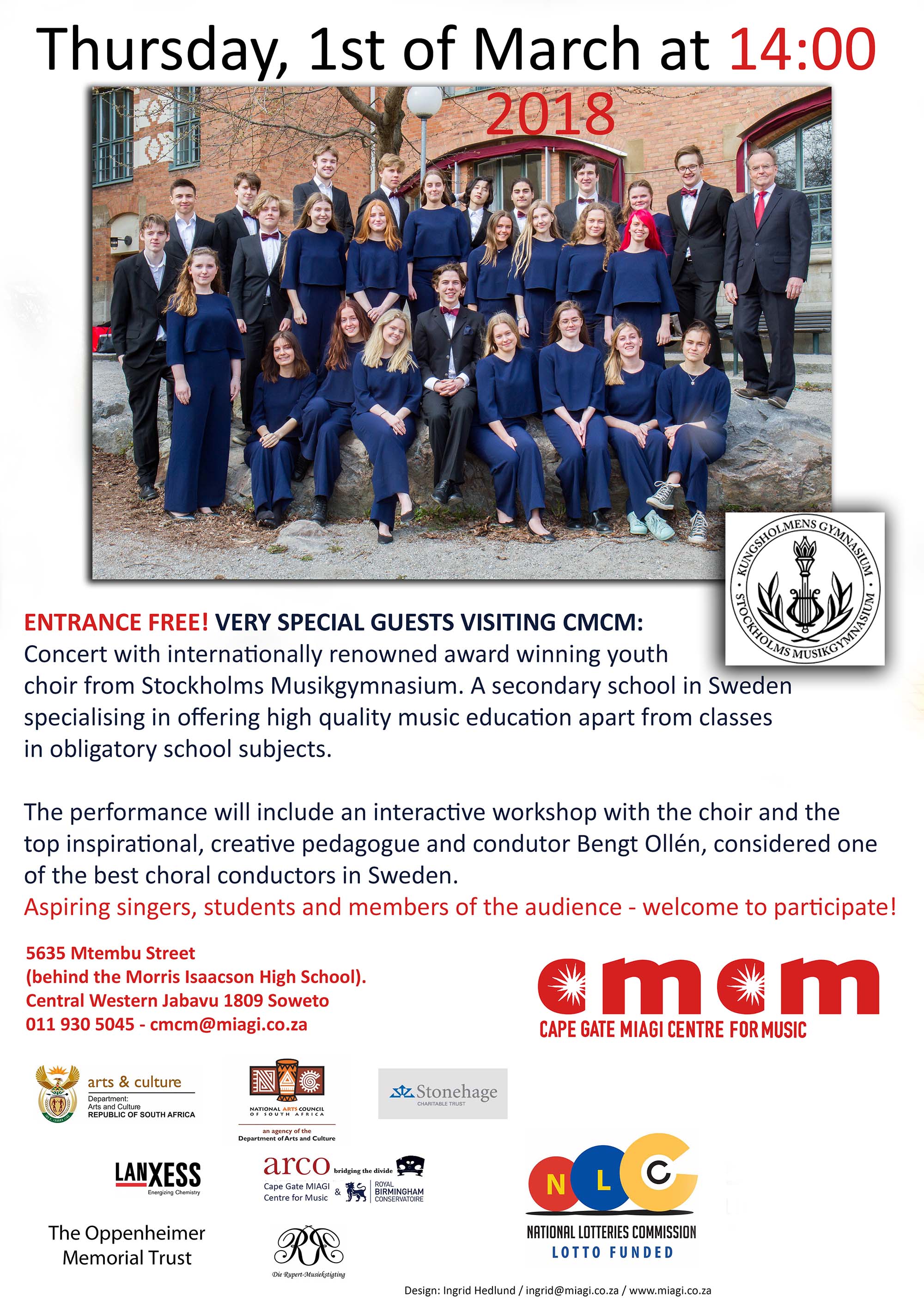 Soweto Jazz Explosion took place on Sunday 4th February 2018 at Cape Gate MIAGI Centre for Music behind the Morris Isaacson High School - 5635 Mtembu Street, Jabavu, Soweto. 
With Steve Dyer, Tshepo Tsotetsi, Sibusiso Sibanyoni, Themba Mokoena, Prince Lengoasa, Khaya Mahlangu, Mongezi Lungsta, Christine Msibi, Sibusiso Lerole, Bhekinkosi Hlatshwayo among others.
Mantswe a Marabi (Voices of Marabi) + a celebration of the feel good South Africa marabi sound by Steve Dyer. Marabi's roots date back to the tonwship shebeens of the 1920s and 1930s and is a catchy, highly danceable sound that is influenced by American jazz, ragitme and bles. Internationally renowned szxophonist and flautist Steve Dyer lead a six-piece band at this Marabi tribute. The show was opened by Jack Lerole's Shukuma, a Kwela music band formed in 1994 under the leadership of Big Voice Jack Lerole in 1994 it now features Big Voice Jack Junior on pennywhistle (text by Soweto Arts). Big Voice Jack Junior teaches pennywhistle and directs the pennywhistle ensembles at our music centre.
Below the photo please watch the video about the event with music and an interview featuring Steve Dyer, Prince Lengoasa and Friends on Morning Live!